Dr. Vidhya Vinod, CEO and President,talks about the impact of education in a nation's economic development
As an educator-turned-entrepreneur, Dr. Vidhya Vinod, CEO and President of Study World Education Holding Group, has seen how investment in education – by both public and private sectors – can increase a nation's global competitiveness. She firmly believes that education is a key contributor to economic development and a critical component of any country's human capital. "For prosperity to happen in any country, a good education system must first be in place," Vinod said, echoing a World Economic Forum report, which noted that "education concerns not only the quantity of schooling – the percentage of the population that completed primary, secondary, or tertiary education – but also, critically, its quality." The UAE experience is a good case in point. In 2004, the Dubai government created education free zones like the Dubai Academic City and Knowledge Village, allowing foreign private educational institutions to offer their services to the country's dynamic and multicultural population. This paved the way for building a knowledge economy. In 2005, Vinod saw the opportunity to add value to this growing industry by partnering with Heriot- Watt University which is by far the largest private higher education provider in the UAE.
COMPLETE SOLUTION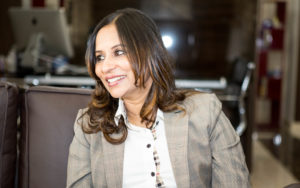 Over the past 11 years, Study World has steadily grown. Apart from the UAE, where it has invested into infrastructure and co-manages the Dubai campus of Heriot-Watt University and has invested in Dovecote Green Primary School, the company also has presence in Qatar, Malta, India, Sri Lanka and Malaysia. Serving the needs of students from the primary to the tertiary levels, Study World offers its own taught degrees, and a wide range of services to its education partners, from administration, marketing and student admission to facilities management, student transport and housing, and job placement.
"We now have a combined student population of more than 5,000 in all our campuses worldwide," Vinod said. "By 2020, our vision is to serve at least 20,000 students globally." But while quantity may be important to the Group and its clients' top-line, Vinod said they do not compromise on the quality of education. "Both these components matter in our business. You cannot achieve success, without having a synergy between quantity and quality," she said. "The main responsibility of any university or educational institution is to make their graduates employable and that is something that we are committed to, together with our partners," she added.
GROWTH PROSPECTS
"While expanding further in the UAE, we have also set our eyes on Africa and the CIS [Commonwealth of Independent States] nations in the next five years." she explained. Another sector that has opened up opportunities for Study World is healthcare, in particular health education, a promising segment especially since the GCC's healthcare industry is expected to be a US$71 -billion industry by 2020. "GCC governments are dedicated to the continued development of the education sector, as they shift their economies from oil to knowledge. Credible educational institutions, good investors, and high-quality service providers will all play a critical role in developing this industry," Vinod concluded.