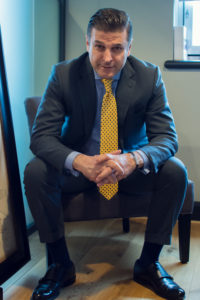 Farazad Investments Ltd (FI) is a Boutique Investment Bank with offices across five continents, headquartered from London, United Kingdom. The company was formed in 1996 and has since undergone significant strategic development and growth. In the nineties the company financed oil wells in Mississippi and Louisiana. This primary step led to the expansion of operations, and key relations were established with World leading Financial Institutions and global oil suppliers. The business diversified concentrating on the buy & sell of prime bank instruments and crude oil. FI's current niche sectors within the market includes Real Estate development and Energy related development financing.
FI's key strategy to put clients first above and beyond profits and communicate effectively has been at the root of the company's success. FI has the ability to take opportunities that present either challenging geographical locations or may have geopolitical concerns, and turning those opportunities into secure and protected investments for foreign investors from developed countries, that bring inward capital into these key projects. An example Hydro Power Plant Development in Albania, which is a five Hydro Power Plant development, valued at Euro 154M with a combination of debt and equity, of which 70% was debt secured and 30% equity raise. The 70% came from a Consortium of Asian lenders and 30% from a German and Korean equity investor. Due the geographic location, FI managed to secure the transaction despite these challenges, FI managed to mitigate the risk by structuring the transaction favorably and also maximising the returns on the equity and to also have the debt to be serviced within the period of the loan.
The Company's head office is based in London including the back office which is the core of the company and made up of extremely talented Investment Analyst and Associate Directors that overview each transaction that is originated by the company's Producing team. FI' team assess the transactions to ensure they are completed in a proper manner in-house before it is taken to the market to qualified investors and/or lenders, that are interested to invest or lend in the opportunity. FI's infrastructure is driven by its manpower and its team that collectively work together and decide as a committee which transaction to pursue.
Brexit is the number one challenge and even though it was and still remains a challenge, FI has adapted to the new changing environment and how to best assess new opportunities in the new market conditions, factoring in regulatory requirements and the uncertainties between an EU and standalone UK lending conditions, says Mr. Korosh Farazad.
Other monumental challenges include three market crashes, macroeconomics of each event has given FI the opportunity to adapt to the new market environment although faced with major obstacles and challenges FI managed to adapt to clients' needs and to ensure the company could identify lenders and investors for solid opportunities.
The 2008 world crises crippled the lending markets and permanently affected how funding was structured. FI certainly encountered challenges during these turbulent times, and the survival of the firm, required an adapted direction to seek out new partners with the financial capability and understanding to invest into profitable ventures. Mr. Farazad was fortunate to be introduced to prominent Family Offices and Private Equity groups, who not only evidenced the funds but also the risk appetite to invest Worldwide.
FI's capability in the lending market strengthened with access not only to Regulated Funding Houses but also the Private Family Offices that often demonstrated more willingness to compete in the market. FI's survival during these challenging times, counted on Mr. Farazad's ability to diversify and establish a secure platform, by adapting the traditional mechanics of conventional financing, in a volatile market.
According to Mr. Korosh Farazad, to provide ethical and transparent structures to our clients, to provide the required support and evidence of the transaction from the start till the closing is the goal of Farazad Investment. Mr. Farazad says, FI takes the clients requirements seriously and give a documented step by step procedure of what is being done and evidence the reports, surveys and financial modelling to the client in an easy format that can be followed and understood.
FI's mission is to be a multinational fund predominately focused on the real estate investments, which includes hospitality, residential or mixed used of the two. Focus in Continental Europe, United Kingdom and the United States.
FI provides a structured approach that allows them to identify the opportunities, that helps FI decide how to work within the capital stack and minimise the cost.
Sectors that FI cater towards include real estate capital markets within hospitality which include hotel development financing, residential and mixed use of the two. Oil development financing for proven reserves and undeveloped and energy development financing in Frontier and Emerging Markets with strong sponsorship and credible off-take agreements.
Pricing gives FI a competitive edge, the markets are very competitive and saturated and the quality deals are minimal, so everyone is after the same deals. To have a competitive edge in the market they reduce their profit margins without compromising on level of service or delivery and this provides FI an advantage in the market. They have a one to one interaction with all clients, lenders and investors, having an interactive relationship and be on hand to provide solutions or structures to favour the deal for all sides.
It is Mr. Farazad's transparent approach to financing and creative thinking, which introduced an award winning in-house financing formula, which has been praised by international Institutions wanting to adopt the formula and enhance traditional funding methodology.
Innovation & the ability to adapt to changes makes Farazad Investments Ltd pivotal to the future of the Financial Services industry. FI likes to understand client's needs, to understand lenders requirements and to understand investors interest in terms of what excites them to invest in a transaction.
FI's primary objective is to become a respected and reputable real estate fund. Tech innovations within the financial market is very important, it is a valuable necessity for the future and due to FI's belief in the sector, they are providing equity financing for a new start-up company for a dynamic business mobile app that is being developed in-house by their subsidiary company, Farazad Productions Ltd. Tech innovations will continue as new structures and new platforms allow underwriters to use enhanced algorithms and sophisticated formula to further understand risk components of a transaction.